'dark fantasy' exhibition in LA includes work by virgil abloh, studio drift, and maarten baas
designboom
UTA artist space, an exhibition venue in beverly hills, and carpenters workshop gallery have joined forces to present a new group exhibition titled 'dark fantasy'. on view until november 16, 2019, the show features a selection of artists from carpenters workshop gallery's program, including virgil abloh, studio drift, and nacho carbonell. the presentation, curated by ashlee harrison, brings to life forms that allude to bygone eras of production. 'dark fantasy' follows 'DYSFUNCTIONAL' — an exhibtion which opened in venice last may.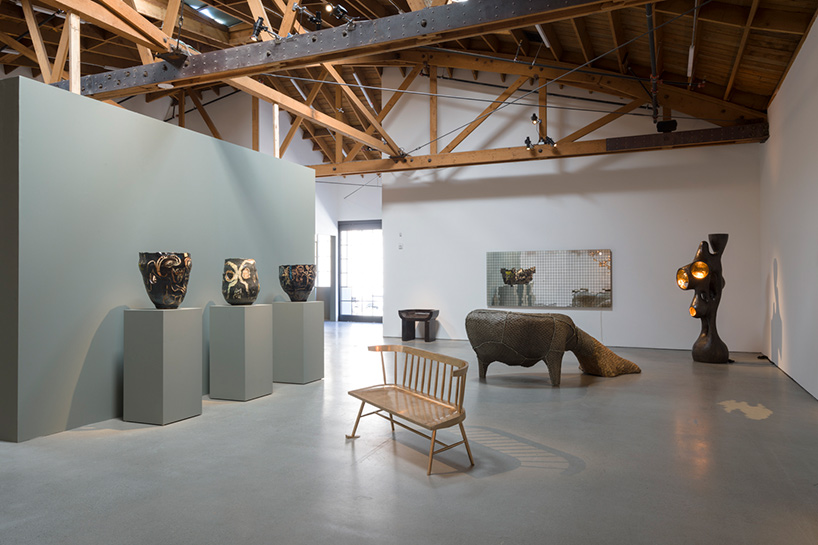 all images by jeff mclane
hosted by UTA artist space, the exhibition explores over a decade of functional art from 24 artists from carpenters workshop gallery's program, creating a dialogue between space, time, and contemporary archeology. based on the concept of archeofuturism, which focuses on excavating forms of the past in order to shape future narratives of design, 'dark fantasy' guides the viewer through a whimsical world of the fantastic and the obscure.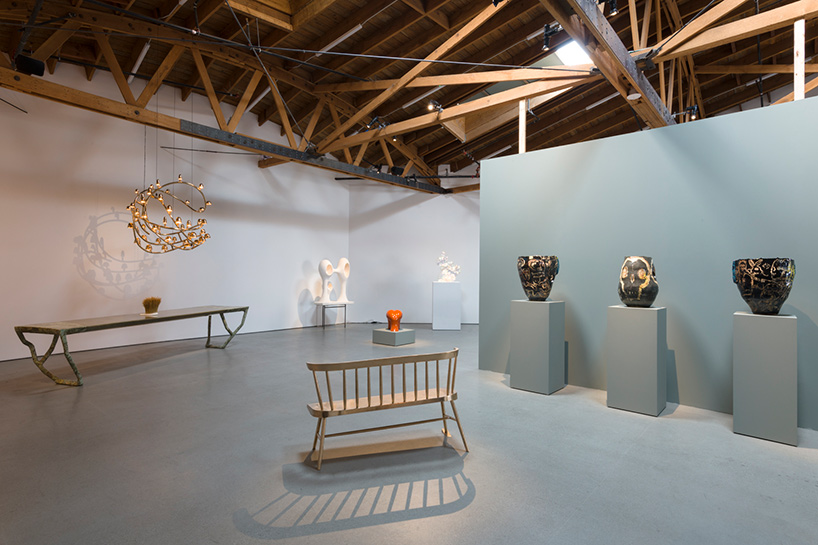 two monumental wendell castle bronze sculptures flank the entrance to the exhibition, followed by a forest of nacho carbonell's light sculptures upon arrival inside the gallery. further inside, the viewer is immersed in a decadent installation of studio drift's 'fragile future'. also included is 'alaska bench', a bronze sculpture by virgil abloh that is inspired by venice's rising sea levels. elsewhere, branch-like structures of precious jasper jade grow into a dining table by vincenzo de cotiis, while a performative grandfather clock by maarten baas is also featured.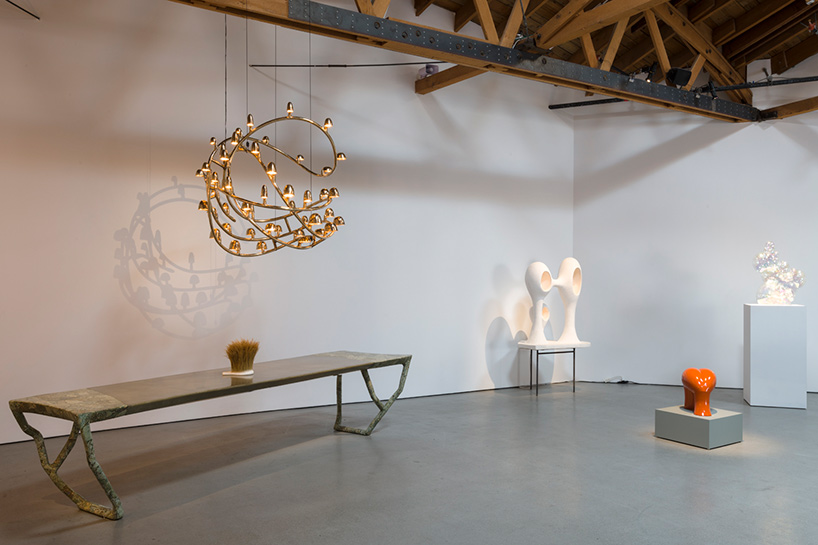 the exhibition features over 50 pieces by: virgil abloh, atelier van lieshout, maarten baas, aldo bakker, sebastian brajkovic, fernando and humberto campana, nacho carbonell, wendell castle, vincenzo de cotiis, ingrid donat, vincent dubourg, najla el zein, kendell geers, steven haulenbeek, anton hendrik denys, kostas lambridis, mathieu lehanneur, frederik molenschot, rick owens, random international, robert stadler, studio drift, charles trevelyan, and verhoeven twins.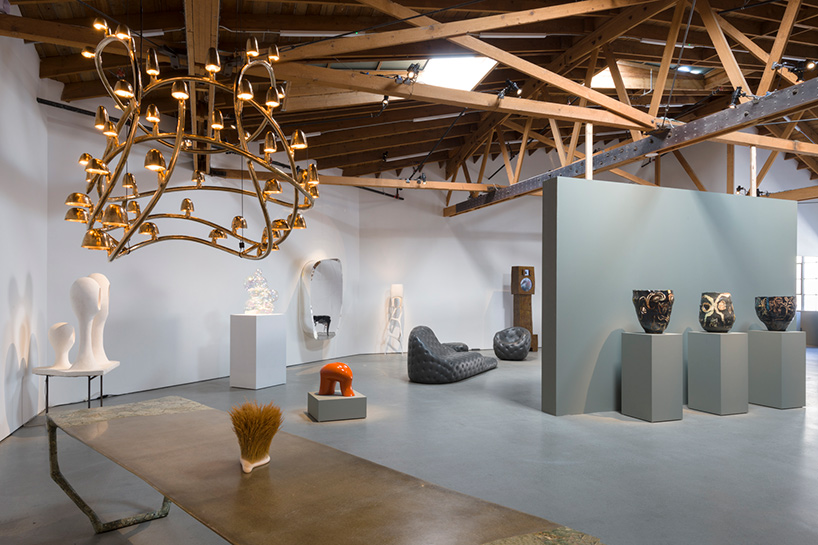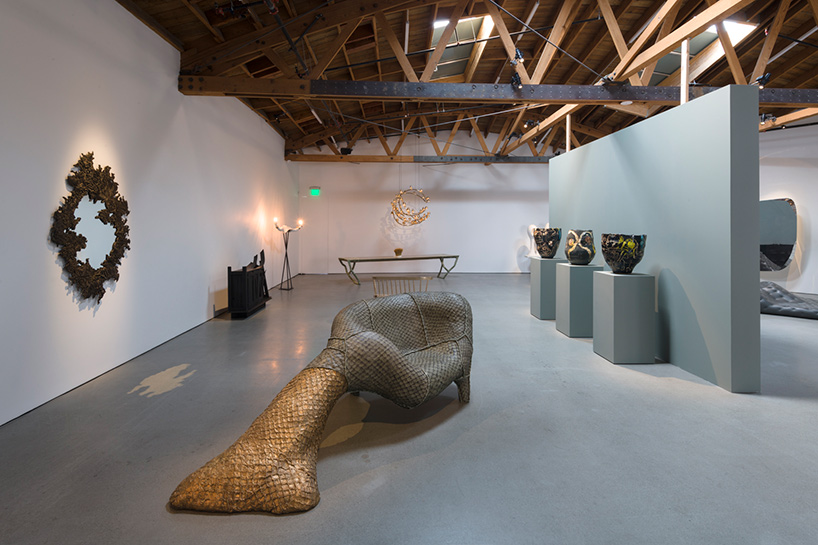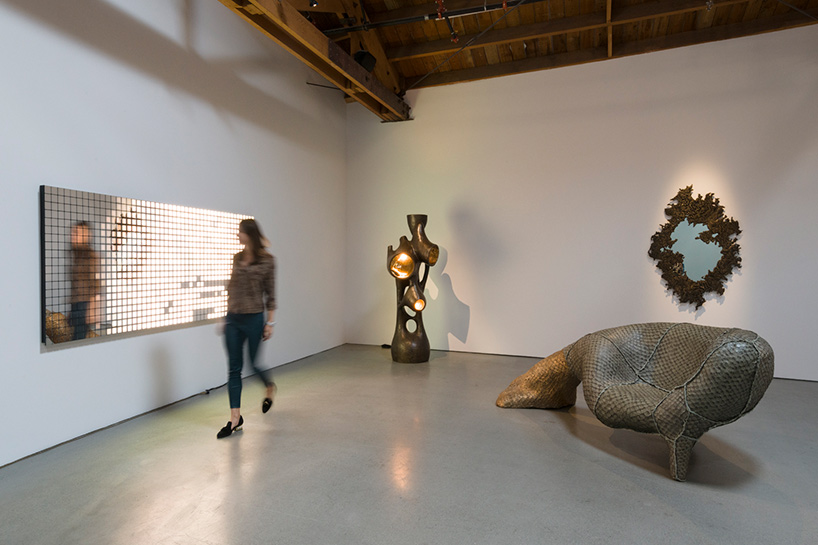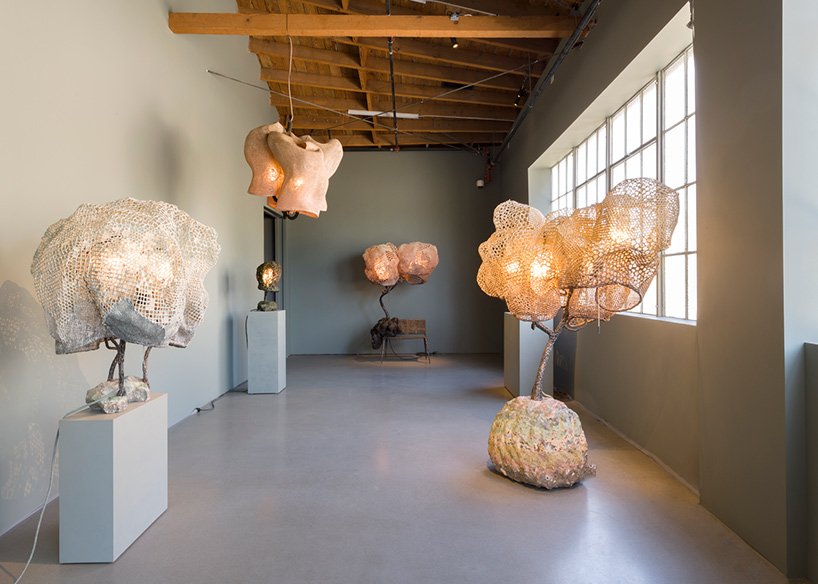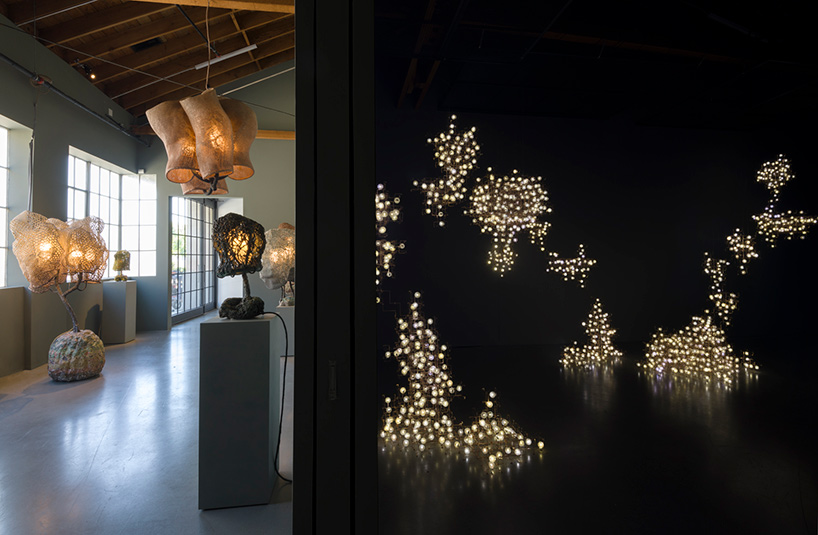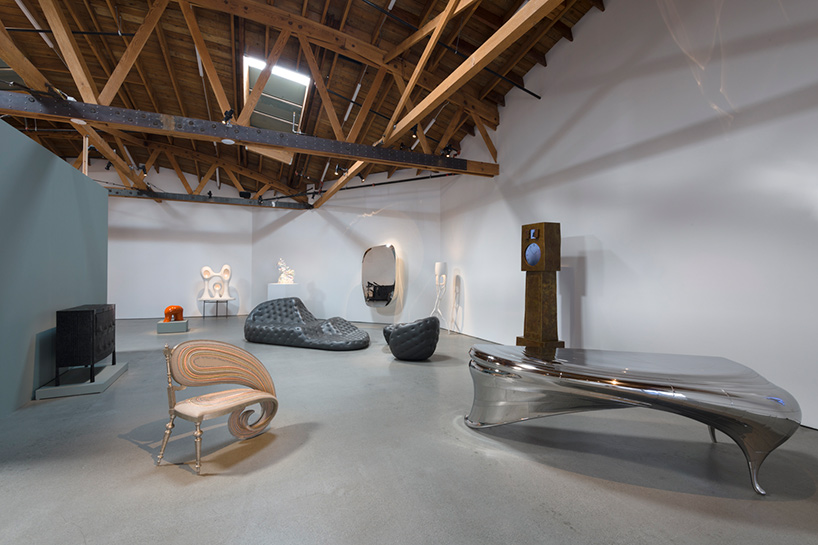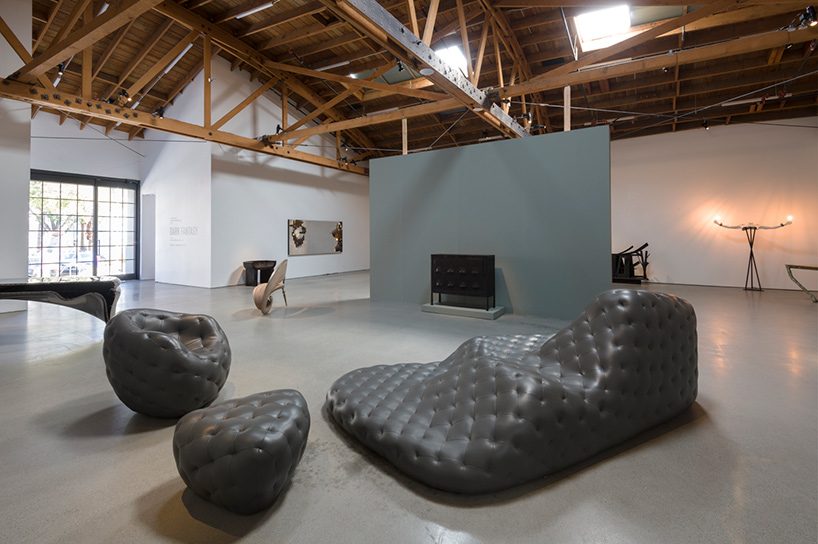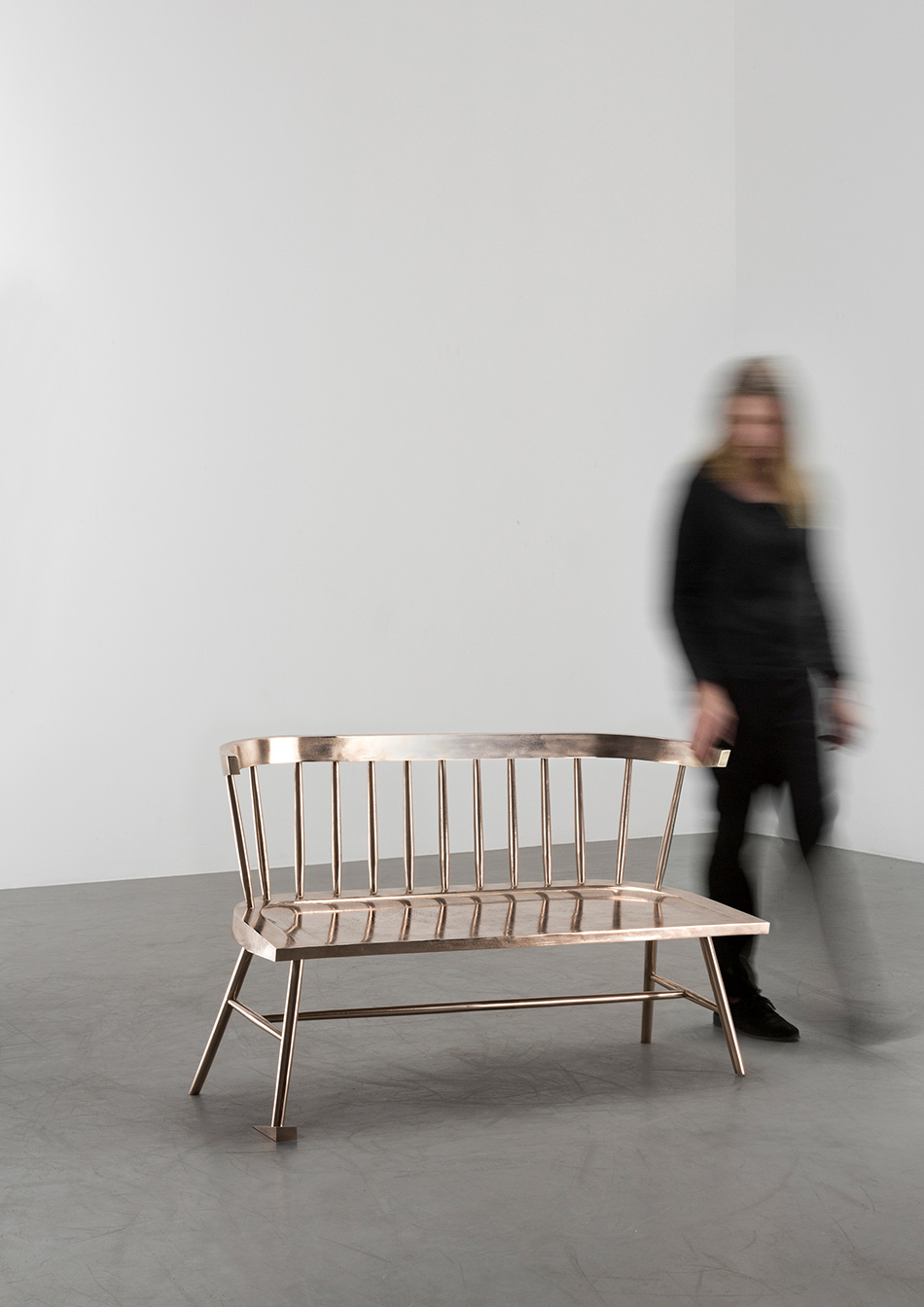 alaska bench, a bench by virgil abloh
image courtesy of carpenters workshop gallery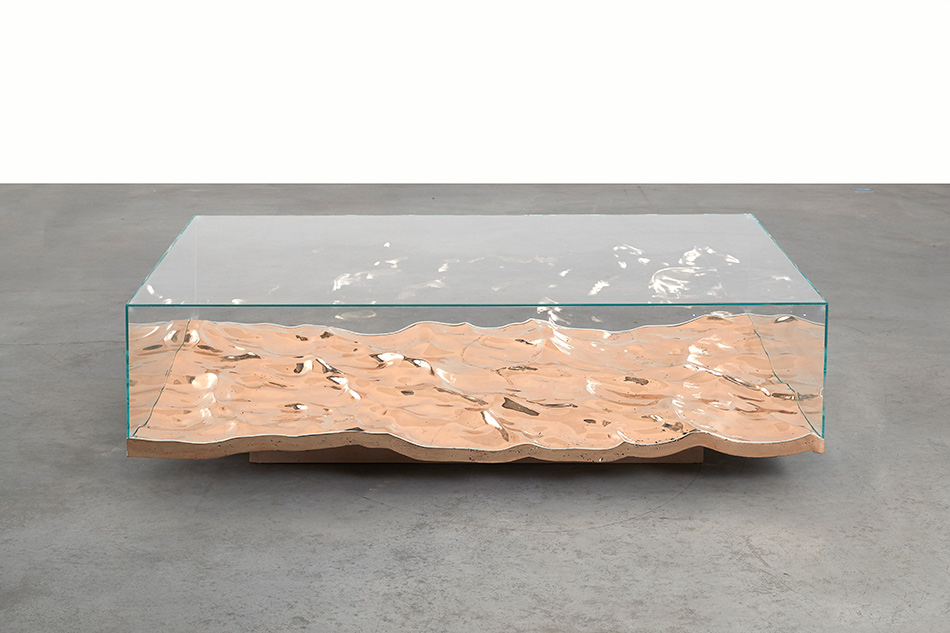 liquid bronze low table, a coffee table by mathieu lehanneur
image courtesy of carpenters workshop gallery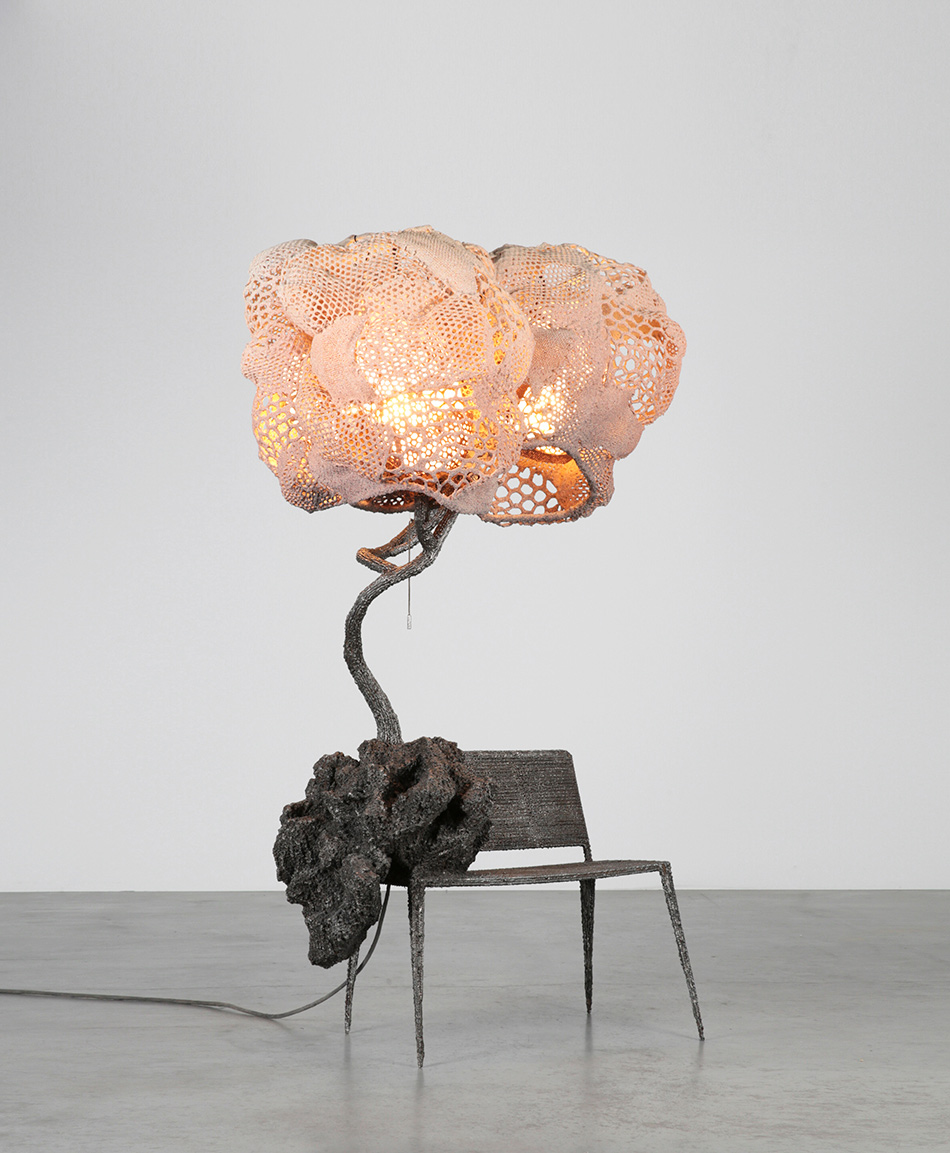 combi cocoon 3 (102_2018), a floor lamp by nacho carbonell
image courtesy of carpenters workshop gallery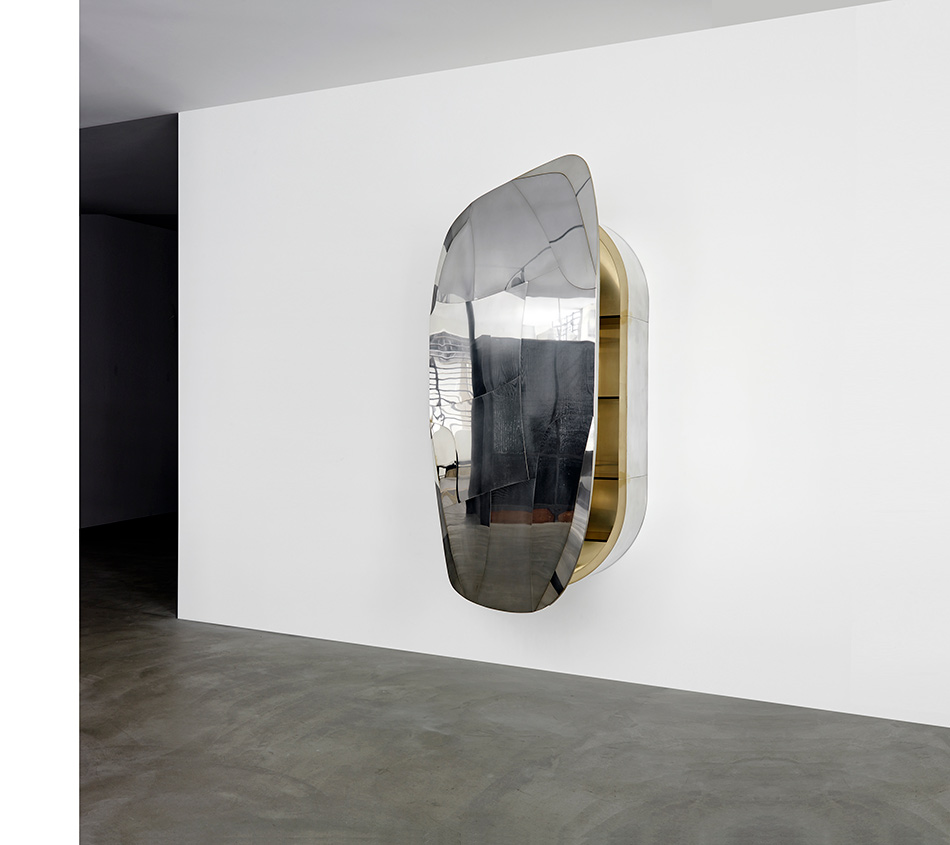 DC 1611, a high cabinet by vincenzo de cotiis
image courtesy of carpenters workshop gallery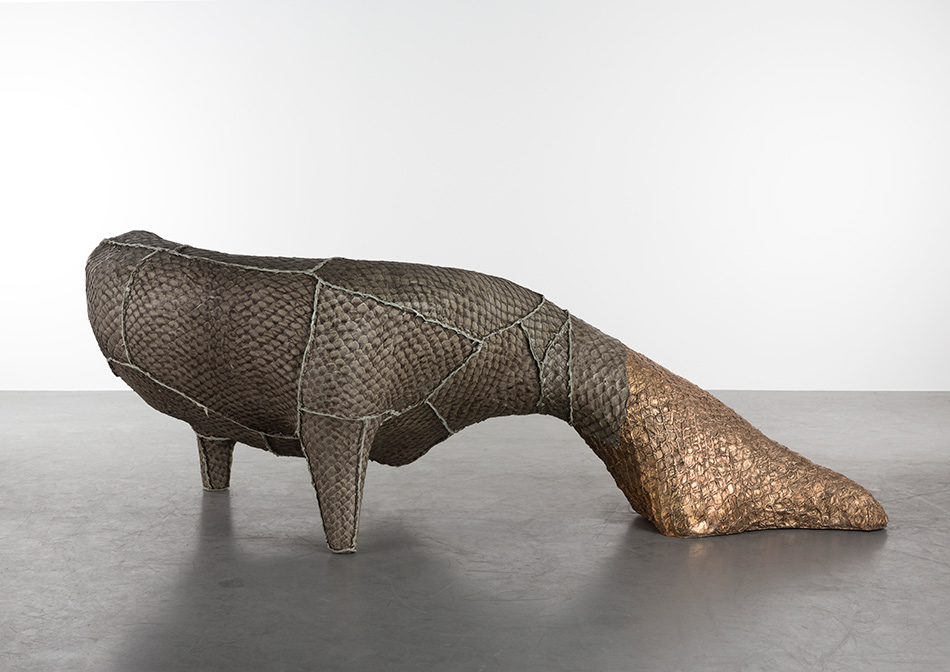 pirarucu armchair sereia, an armchair by campana brothers
image courtesy of carpenters workshop gallery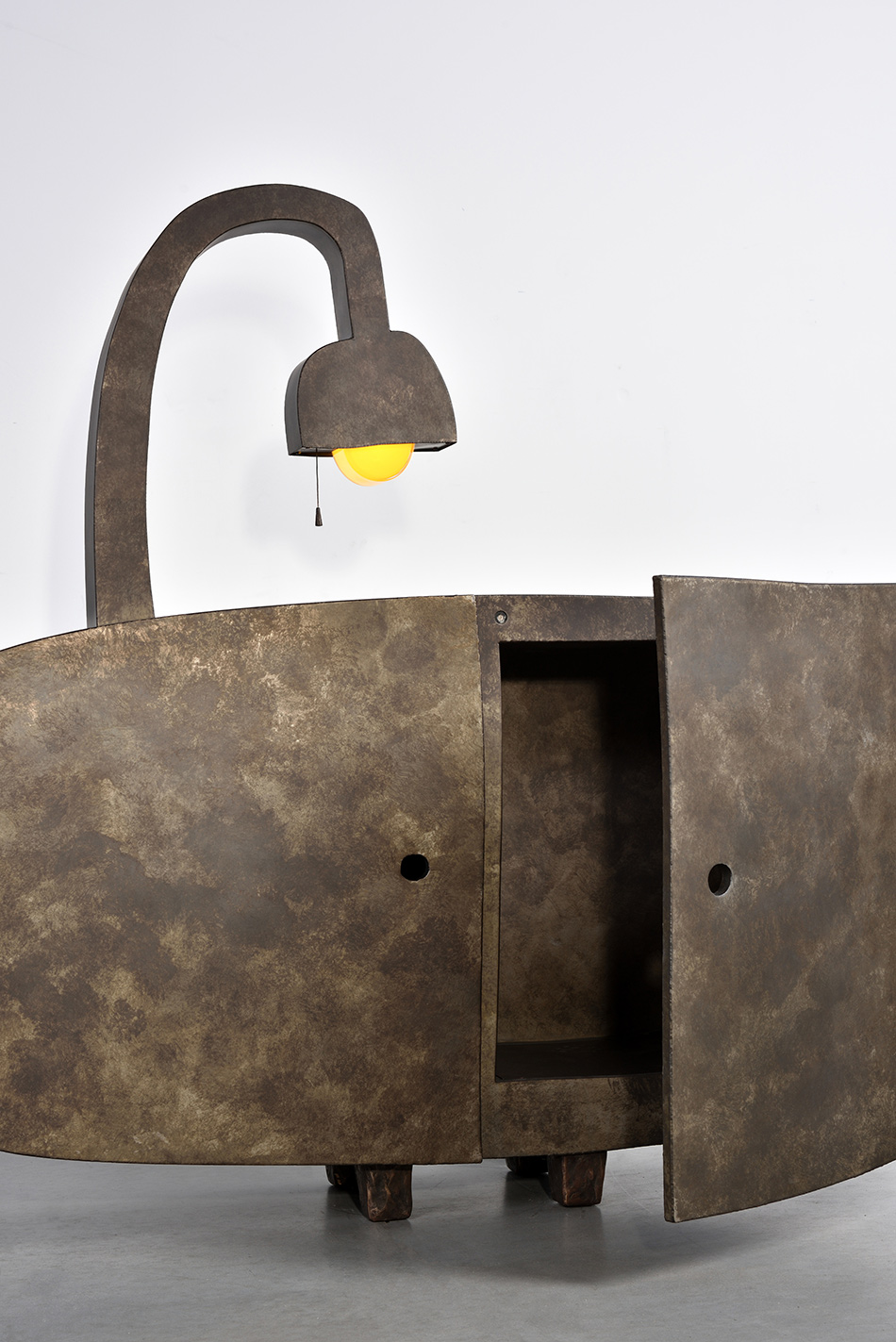 close parity cabinet with light, a low cabinet by maarten baas
image courtesy of carpenters workshop gallery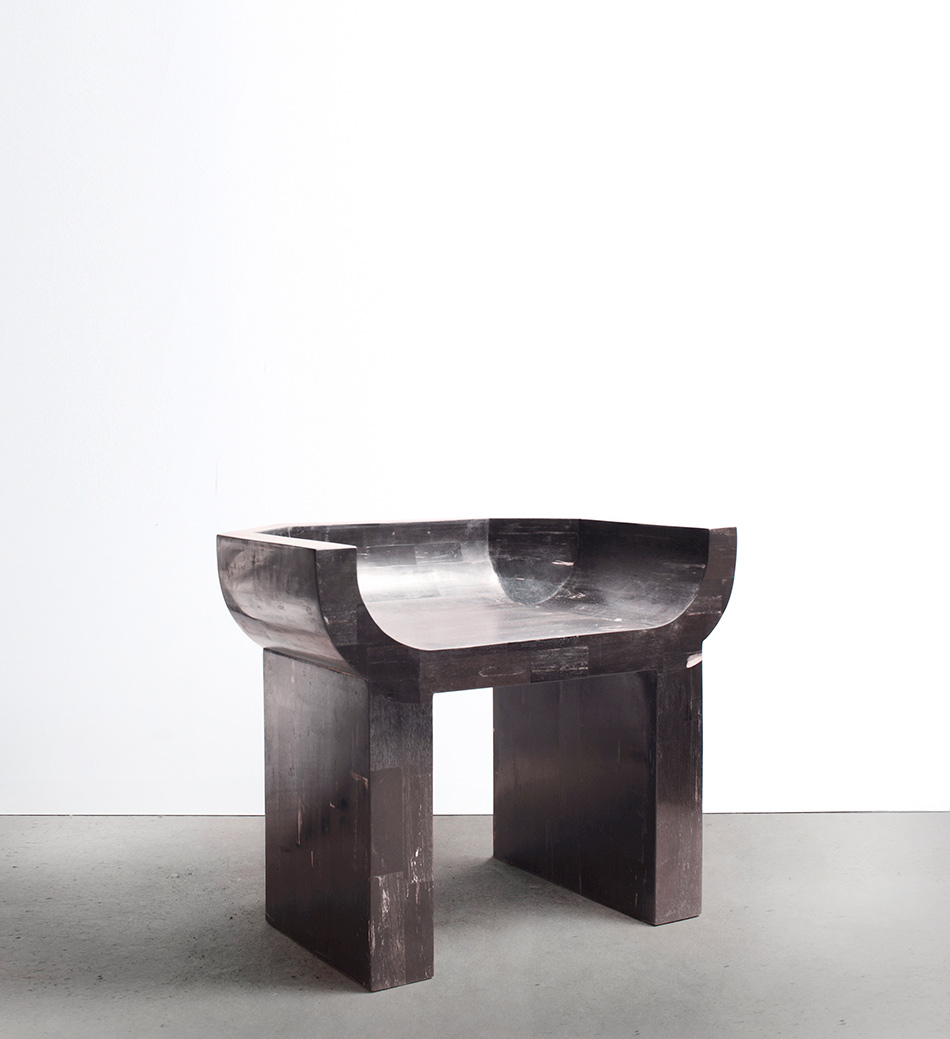 curial (black plywood), a chair by rick owens
image courtesy of carpenters workshop gallery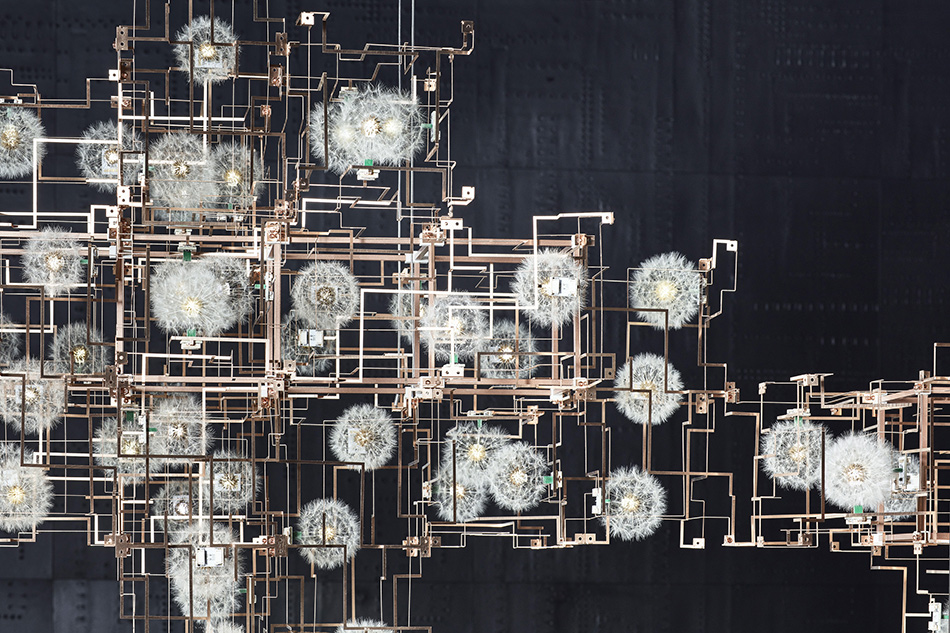 fragile future chandelier 3.14, a chandelier by studio drift
image courtesy of carpenters workshop gallery
project info:
name: dark fantasy
presented by: UTA artist space and carpenters workshop gallery
location: UTA artist space, 403 foothill rd, beverly hills, CA 90210
dates: october 11 – november 16, 2019