In the immense Theater Gallery of LA's Marciano Art Foundation (MAF), Ai Weiwei's 2010 installation Sunflower Seeds stretches across the polished cement floor like a high-pile carpet. The fuzzy grey mass is made of millions of tiny porcelain sculptures, an allusion to old Mao Zedong propaganda that depicted the people as sunflowers, and therefore the late chairman as the sun.
The more essential fact of the work, however, is that it took 1,600 artisans from China's home of imperial porcelain more than two years to make these seeds. To know this is to understand how the monumental relies on the miniscule, on hundreds of millions of single brushstrokes applied by human hands. The care and attention the artisans paid to each seed, despite the sheer number of them, extolls the value of the individual.
To a packed auditorium at the Los Angeles County Museum of Art, Ai described Sunflower Seeds as "the smallest sculptures possible".
"So then you have to make a lot," he quipped, prompting the audience's adoring laughter. At the end of September, Ai made his LA debut with three concurrent exhibitions: Life Cycle, which greets visitors with Sunflower Seeds at MAF; a self-titled show to inaugurate New York gallerist Jeffrey Deitch's new LA space; and Cao/Humanity at Beverly Hills' UTA Artist Space, a gallery run by the Hollywood representatives of the United Talent Agency. His whirlwind debut included attending all the parties thrown in his honor and taking selfies with an enthusiastic public – all of which was systematically logged on his Instagram account.
It's Ai's ardent criticism of human rights violations, often in the form of potent, large-scale public works, that's garnered such global renown. In China, however, "Subversion of state power is a strong crime," Ai tells the Guardian, and in 2011, following his condemnations of governmental corruption, the Chinese state demolished his Shanghai studio, subsequently imprisoned him for three months, and confiscated his passport for almost four years.
Since Ai was given his passport back in 2015, he's relocated to Berlin and shifted his focus on the global crisis of displacement, creating works that advocate for refugee rights. At MAF, what follows Sunflower Seeds is the titular new work, Life Cycle, an enormous refugee boat woven from strands of bamboo. And his searing 2017 documentary Human Flow, was an intimate portrait of human displacement.
The film brought Ai to settlement camps in 23 different countries, but one of his last stops was Los Angeles for the promotion of the film. Despite the artist's near constant and global exhibition schedule, LA had eluded him up until Hollywood's intervention. Joshua Roth, the UTA agent who secured the financing for Human Flow, also invited Ai to exhibit in his gallery, and introduced him to friends with a newly opened art foundation, Guess Jeans founders Paul and Maurice Marciano.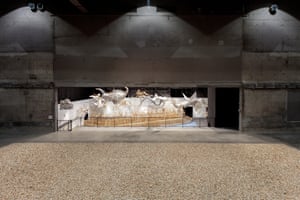 Ai's Los Angeles debut arrived at an emotionally fraught moment. Roth died unexpectedly from heart complications just weeks before his opening, coating MAF with an air of grief as a tearful Maurice Marciano introduced the exhibition. At that point, Ai was still mourning the loss of his Beijing studio of 12 years. In early August, his studio assistants began sending him footage of Chinese authorities razing the building to the ground, this time alongside other artists' studios and migrant workers' homes in the name of real estate development.
"In China, basically, there's no real private property," he says. "Everything belongs to the government. If they don't let you use it, you're violating some kind of law." As Ai's three-year Berlin visa nears its expiration date, he's announced plans to move to upstate New York. In Beijing, one studio, the compound of his former residence remains, but he holds out little hope for it.
"Nothing is secure," he says. "If they do [destroy it], this will be the last one."
Despite living in Europe, China has been the headquarters of production for much of Ai's work. He employs scores of master craftsmen specializing in porcelain, bamboo, silk, not only as a material homage to Chinese history and tradition, but to ensure the necessary precision of their handiwork.
"I cannot accept anything which is not precise, or I feel ashamed," Ai says, explaining why, on the morning of his Jeffrey Deitch opening, his studio assistants were diligently nudging almost 6,000 antique Chinese stools by as little as a quarter inch over the gallery floor. The original installation was overcrowded, he had found, and needed to be fixed. Just hours before show time, they were being rearranged and set in place, with their legs overlapping at the uniform angle of a line of Rockettes.
"We just need to execute the plan," Deitch says, referring to exhibitors of Ai's work. "Of course, it has to be done exactly right."
A necessity of Ai's practice, which applies to most artists who wish to make a living off of their work, is the gift shop component. The flip side to making political statements is making highly sought-after commercial work. His projects of populist appeal include skateboards and wine bottle labels bearing images of iconic works. At Deitch, the gallerist chose Ai for his inaugural show because for the artist's excellent command of space, he said, but in the gallery, Stools is overcrowded on all sides with more collector-friendly works – Lego portraits of Chinese zodiac animals and a series of precious cubes sculpted from porcelain, marble, and pricey tea leaves.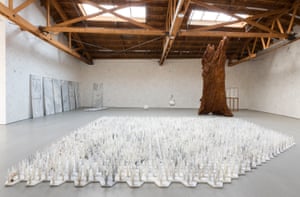 At UTA, the centerpiece of Cao/Humanity is the lawn of marble blades of grass on the gallery floor, with Cao meaning grass – an apt metaphor for a mass collection of individual parts – as well as a common substitute for fuck on the censored Chinese internet. In contrast to the uplifting sentiments of Life Cycle, the forceful expletive is what resounds here. An arm holding up its middle finger, disembodied not at the shoulder but up to the ear, nods to Study of Perspective, a series of photographs taken from 1995 onwards of Ai's middle finger in front of various world monuments. Here, it's been retooled as an arm sculpted in glass, and as a graphic that repeats over the wallpaper in the gallery. Over the course of the three LA exhibitions, a formula starts to emerge: each features a field of objects as its centerpiece, sounded by sculptural tokens of grander bodies of work.
Ai spoke to the Guardian just before the appointment of Brett Kavanaugh to the supreme court, and criticized the apathy on display during his confirmation hearings, characterizing American democracy as a "moving concept".
"The top officials, they're not on the side of someone being victimized," he said, in reference to Christine Blasey Ford's allegations of sexual assault. "This lady has to reveal the most painful moment, and you see so many congressmen question her integrity, and the whole world is watching." Privilege and the illusion of freedom have bred a toxic apathy in the United States, he says. "You're living at somebody else's cost, and it's immoral by not bearing your responsibility."
What kind of change his or any political artist's work can actually achieve remains an open question. In his book 9.5 Theses on Art and Class, the art critic Ben Davis argues that political art is not a force on par with real-life organizing and the in-depth analysis of policy. The shortcoming of aesthetic political gestures is that while they present us with a problem, they rarely offer a course of resolution. Quoting Susan Sontag, he writes: "Photographs of an atrocity may give rise to opposing responses. Or, simply the bemused awareness, continually restocked by photographic information, that terrible things happen."
At this point in time, our awareness of widespread displacement, famine, and a host of global ills has not been enough to reverse them.
"It's so easy," Ai says, providing little in the way of strategy. "Just be aware that life is special. If we're conscious about it, then things will change." In lieu of answers, what his work does provide is a generous relief, a moment of levity in a time when humanity badly needs it. The momentous power in his art is its ability to draw the public together in collective awe. At Lacma, he closed by telling his audience: "We are more dependent on each other than any other time.
This article was amended on 10 October as originally it was stated that Ai Weiwei received his passport back in 2014 rather than 2015.